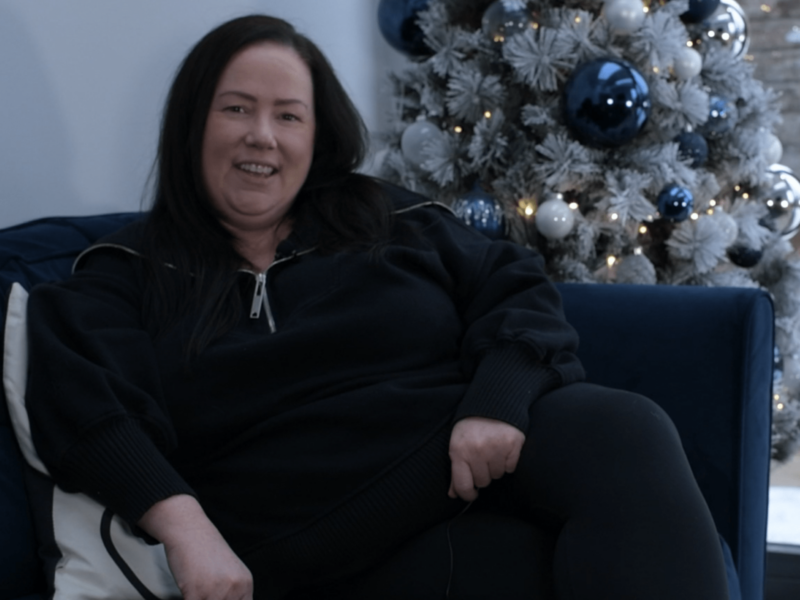 Sarah's hup! story
Sarah Walsh and her partner Steven chose hup! to 'hup!grade!' their tired, unloved conservatory into a stunning new extension that has completely transformed the space and the way they live in their home – in only a matter of days!
Explore case study
Watch case study video
Time taken to build
4.5 Days
Additional space vs traditional build
1.00m2
Property value added
+£35,000
hup! project details
Conservatory conversion
Tiled
Render
Waste of space to dream place
Sarah and Steven's conservatory had stood unloved and unused for some years. They felt that the polycarbonate roof and dwarf walls didn't fit with the modern feel of the rest of their home and over time, the guttering had become distorted which further added to the dated exterior look.
On the inside, the lack of temperature regulation from the polycarbonate and outdated frame technology meant that the room had become unused and nothing more than a dumping ground.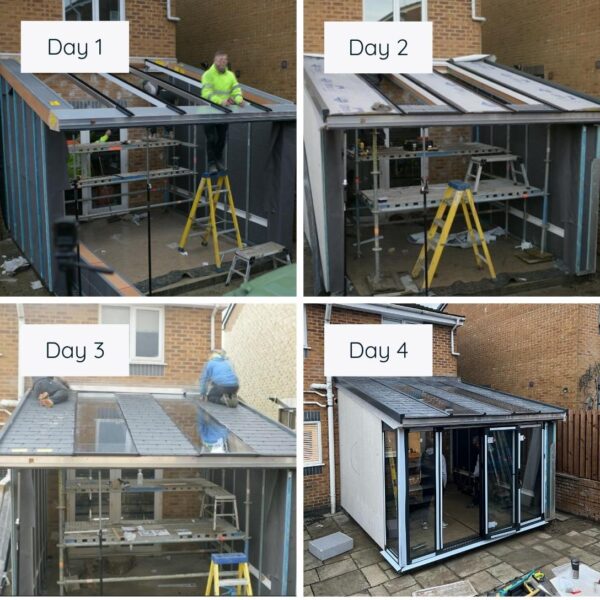 Modern, usable space
The couple had wanted to transform their conservatory into a modern, usable space for some time but each time they looked into it, they were put off by talk of spiralling costs, long build times, weather disruption, and huge amounts of mess to their home and garden.
The old conservatory was taken down and the original base used for the new hup! extension. Once the old conservatory was taken down, the hup! walls and roof were in place by day 3 and windows and doors took the hup! to watertight by day 4 – an incredible feat that was achieved despite frequent downpours that would have stopped a traditional build in its tracks.
The new structure is 25% lighter than the old conservatory was thanks to the lightness of hup! walls. If they had built the new extension in brick and block, the structure would have been significantly heavier and most likely have needed a new base – which would have significantly impacted on the time taken and cost of the project.
Bright, light space
Sarah and Steven always felt that the polycarbonate roof gave a very dull muted light and a key part of their dream had been to create a bright, light space. They achieved this by choosing a hup! tiled roof with two huge glazed panels, bi-fold doors and a full-length corner window feature to flood the previously gloomy room with heaps of natural light.
Aside from the huge amounts of light brought in by the new roof and doors, the new steeply pitched lean-to roof style makes the internal space feel far bigger thanks to the interior height. hup! walls are also 27% slimmer than bricks and mortar walls and so while some of the room feeling so much bigger is due to the change in roof style, Sarah and Steven have 11% more floor space than if they had chosen brick and block for the transformation.
Real open plan feel
While the old conservatory was separated from the house by a set of French doors, Sarah and Steven chose to remove these to open the new extension up their kitchen diner. By simply removing the doors and making good of the plasterwork around the opening, as opposed to creating a larger opening, this meant that it wasn't necessary to insert a costly and often tricky steel lintel. While the French doors that sat there before looked relatively small, the opening created now that they have been removed seems far larger and has created a real open plan feel without the mess or hassle for either the homeowners or the builders.
With the entire project including plastering and electrics completed in just 14 days, the couple are 'made hup!' with their new living space. Commenting about their experience of a hup! build, Sarah said:
"We knew that building with hup! is fast but seeing the build take place in just 3-4 days was incredible. We both have busy jobs and so it was great that one small team took care of everything for us. Once our new space was built, we couldn't believe how warm it was – even before our radiator was fitted it was already as warm as the rest of our home! We have removed the doors that used to separate the old conservatory from our kitchen and are delighted that we now have a stunning open plan extension that took a matter of weeks. This will totally change how we live in our home, and we are so glad that hup! has made our vision a reality in such a stress free way."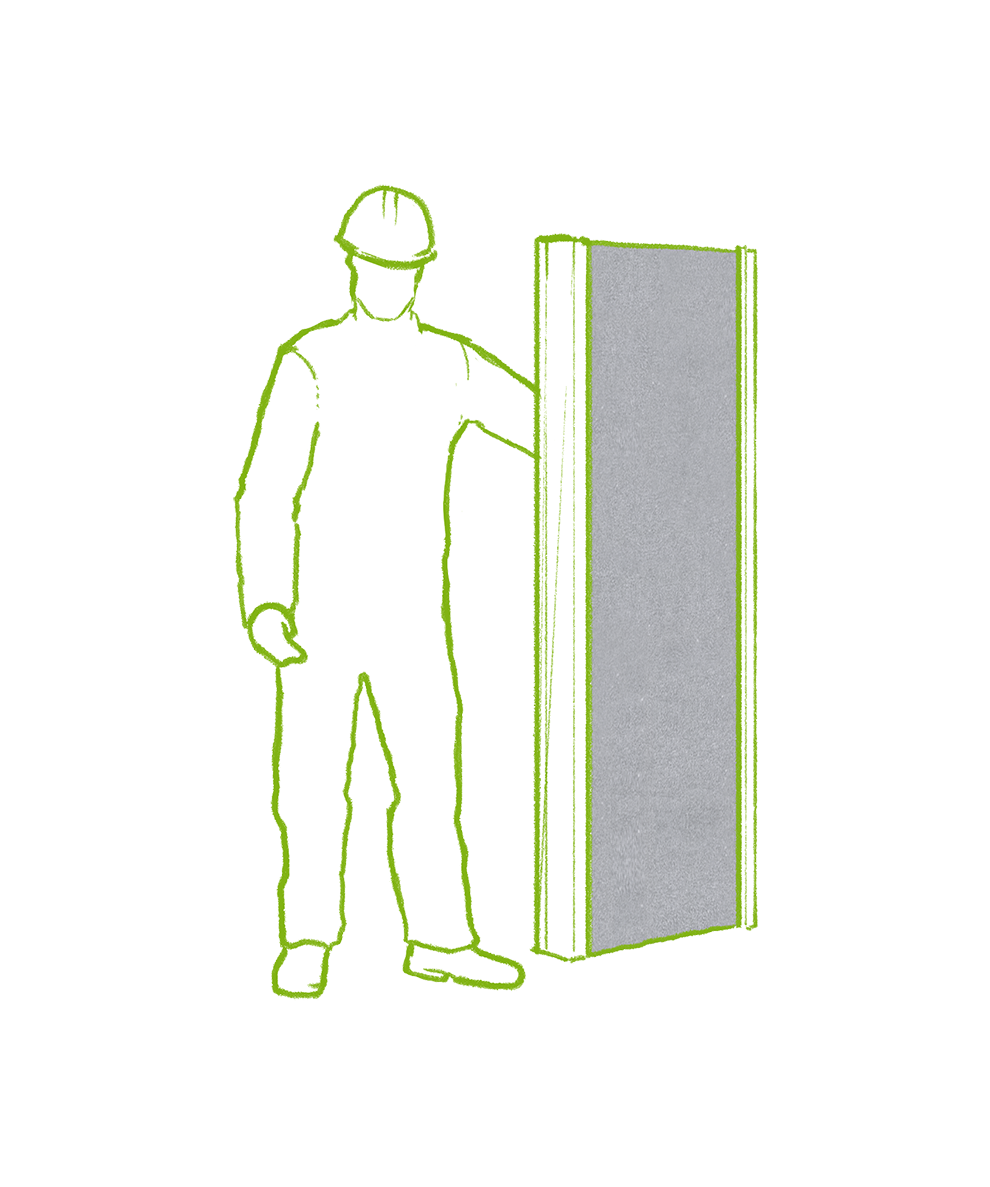 Find your nearest

hup!

builder

Our nationwide network of fully trained hup! specialists are on hand to guide you through your hup! project from design, right through to completion, in a fraction of the time it would take for a traditional build.
Want to explore design options?
It's simple to plan your perfect hup! with our easy-to-use online configurator.
Design your hup!